WARM hosts a launch tour at Pleasure Chest stores nationwide!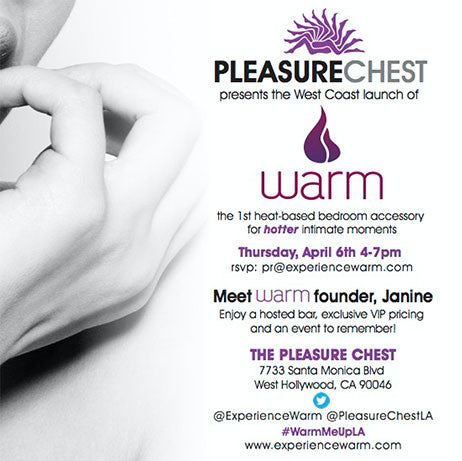 Hey there, Hottie! 
We're so excited that our first nationwide product launch with the Pleasure Chest stores just wrapped!
WARM began as a labor of love nearly two years ago with LJ and I hand drawing our design concepts and making our first round of prototypes on our dining room table. Once we finally went into production, every little detail was carefully discussed and the final materials chosen with the utmost care. As you can imagine, when it came time to reveal a product that truly held a piece of our souls, only a retailer with the same dedication to their mission would understand how passionate we were about launching WARM. I knew exactly what store I wanted that to be, the same one that had guided me personally many times along my intimacy journey and its many evolutions, the iconic and historic, Pleasure Chest.
Started in 1971, the Pleasure Chest has become a legendary retail destination with locations in New York, Los Angeles and Chicago. Their inspiration is to help customers "have the best sex of your life" while offering the most respected products in the market and a highly knowledgeable staff, many of them also sex educators. A key element to their continued success are the many workshops they hold for customers to attend. Their variety of topics and trusted teachers aim to make sexual experiences approachable and enjoyable. This dedication to education and empowerment is what drew me to them as a customer and also exactly what we wanted for WARM! It was especially exciting to interact with our first customers and provide WARM demos for them. As a founder, it was important to connect with them from a real and true place as someone who felt strong enough in the power of heat to dedicate the time to bring it to market.
As WARM grows, we look forward to placing our product with other retailers who also value a sex-positive, education driven environment. There are many stores who work diligently to empower those on their intimacy journeys and we're excited to place product and host events at these special locations as well. 
Until then, make sure you go check out WARM and all the other amazing products at your nearest Pleasure Chest store…tell them Janine sent you!
 Warmly~
Janine xo